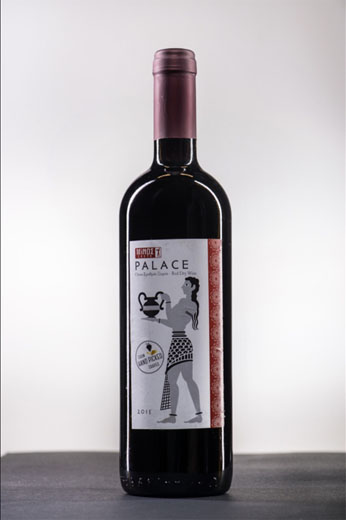 Minos Palace Red
The Winery's most recognizable label continues a course of more than 25 years ina market with increasing demands.
A landmark in the development of Cretan wine.
A combination of the red grape varieties Kotsifali (80%) and Mandilari (20%). It has a purple colour, the aroma of dried fruit as raisin and prune and a light vanilla flavour.
It has a rich, balanced and lasting flavour.
The grapes are cultivated in privately owned and contracted vineyards within the zone of A.O. PEZA and yield approximately 800 kilograms per 1.000 m2.
The vinification is carried through with the classic method of red vinification in special containers.
The wine remains for 9 months in oak barrels, for 3 months in tanks and then it is bottled. It can be aged for 4 years.
kotsifali 80%,
mandilari 20%
4 years
PGI Crete
red meats, BBQ, spicy pasta, rich salads
Alc.12,5ο
18οC