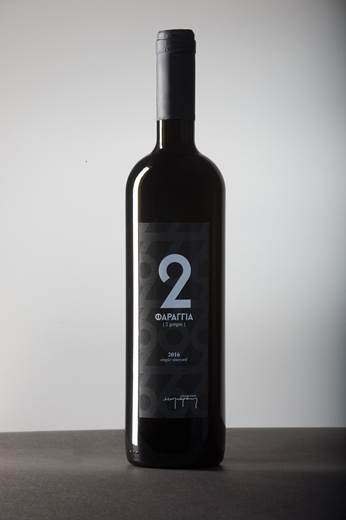 2 Faraggia Red
A red aged wine which combines the basic Cretan variety, Kotsifali with the
varieties of the French south, Syrah and Mourvedre. Soft and velvety, makes an
elective suggestion.
In a 10' ride from the winery, between Agios Mamas gorge and Zofori gorge, you reach Livadakia vineyard, a 5.5 ht domain from where selected varieties are cultivated.
At 300m altitude, planted since 2000 mainly with indigenous varieties, we took advantage of the microclimate of the area and selected the indigenous Kotsifali together with the Mediteranean Syrah and Mourvedre for that red suggestion. Blending the earthy aromatic profile of the Cretan variety together with the ripen red fruit aromas and tannins of Syrah, finishing with the velvety character of Mourvedre, that wine remains for 8 months in French oak barrels and reveals a full body, fruity, concentrate and long-lasting result. It accompanies red meats, hunting, rich winter salads with mushrooms and chestnut recipes.
kotsfali,
Syrah, mourvedre
3-5 years
PGI Crete
red meat plates, BBQ,
yellow cheeses
Alc.12,5 ο
18οC